Nathan Lynch, Research Specialist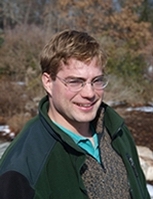 Agricultural Research Specialist, Department of Horticultural Science
North Carolina State University
Mountain Horticultural Crops Research & Extension Center
455 Research Drive
Mills River, NC 28759
Phone: 828.684.3562 ~ Fax: 828.684.8715
nathan_lynch@ncsu.edu
Responsibilities
Assist Tom Ranney with research programs relating to the culture and production of nursery crops in western North Carolina.
Horticulture and Plant Breeding.
Cytogenetics.
Technology applications and Database management.
Laboratory manager.
Additional information
Awards
Pride of the Wolfpack, 2006
Pride of the Wolfpack, 2011
College of Agriculture and Life Sciences Awards for Excellence, 2013
Page Last Updated: 1 year ago
Was the information on this page helpful?